Arthroscopy Implant Exporter
HCM Orthocare is a legendary Indian company engaged in the manufacturing & exporter of Orthopedic Implants & instruments, Arthroscopy Implants since the year 2006. Our company rapidly acquired good reputation as the primitive manufacturer all type of pain devices made with international specifications. Our Industry provides wide range of Arthroscopy Implant such as Endo Button, Anterior cruciate ligament reconstruction (ACL reconstruction), ACL/PCL Reconstruction Screw, Loop, Tibia Post Fixation Screw, Bio Screw and Arthroscopy Instruments.
Our company holds expertise in manufacturing, supplying & exporting of Arthroscopy Implants using the most sophisticated technology and superior grade material & components for perfect designing, Rigid construction, flawless finishing and durability are several features vacant by us.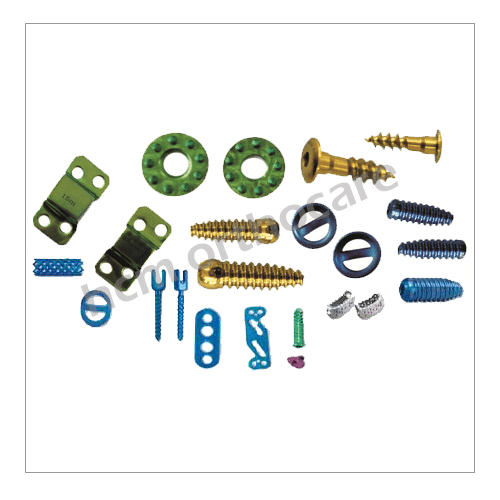 Arthroscopy Implant has mainly two types of arthroscopy; One of the Knee Arthroscopy system and second of the Shoulder Arthroscopy system. In Arthroscopy Knee system essentially comprise the Graft Fixation system including Titanium endobutton in combination with sutures for muscle replacement. The Arthroscopy Knee system is anticipated for replacement of torn PCL (Posterior Cruciate Ligament) or ACL (Anterior Cruciate Ligament). The Arthroscopy shoulder system essentially comprises the Suture anchors which in arrangement with sutures are proposed for attachment of soft tissue to the bone. The anchor is available in PEEK OPTIMA & PEEK CF, Titanium. The Arthroscopy Shoulder system is anticipated for fixation of ligament in shoulder including:-
Bankart Repair
Rotator Cuff Repair
We propose Arthroscopic Implants that are mortal used for reconstructing a knee that has sustained a split. Manufactured using medical evaluation of steel, these orthopedic surgical implants are completely safe & can be availed in diverse specification as per clients. We have acquired professionally expertise in offers our clients with an especially designed range of arthroscopy implants & arthroscopy instruments that are extensively used in the health care industry. These arthroscopy implants and arthroscopy instruments are accurately constructed with precise dimensions for better performance & durability.
The Arthroscopy Implants deliver by us; have precise and fine quality make. Being a high-flying Supplier and manufacturer, we endeavor to deliver top-notch Arthroscopy Implants to our admired patrons. We scrupulously pack the whole lot for ensuring safe & secure deliveries across the boundaries. ACL Screw, Interference Screw is distinctively designed for endoscopic femoral fixation where graft protection is needed.