Bone Plates Manufacturer
We are recognized manufacturer and supplier of Bone Plates which are widely used in internal fixation of fractures. These manufactured Bone Plates are fixed to the bone by application of screws on both sides of the fracture. Our Orthopedic Bone Plates are used for healing the fractured bones. These orthopedic plates hold the broken bones together. We are engaged in manufacturing diverse range of bone plates which includes Titanium Bone Plates produced from high quality raw material.The HCM Orthopedic Surgical Plates are accessible in diverse sizes, thickness, width and holes spacing, as per individual requirements of our valued patrons. The plate is affixed with screws to properly align the bone and aid in the healing process.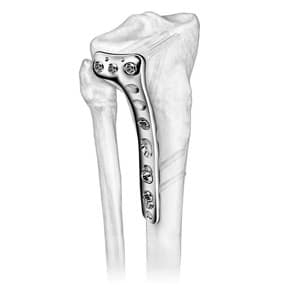 Plates are now widely accepted with different standard techniques of Osteosynthesis, throughout the skeleton. Different anatomical locations demand different shapes and sizes of plates. The most frequently used bone plates are manufactured of stainless steel which is strong, inexpensive and easy to machine in the manufacturing process. However, stainless steel plates do not tolerate stress reversals very well. It is important to remember that plates and screws must be of the same material otherwise corrosion of the implants is likely to occur.