Best Humeral Intramedullary Nail Manufacturer and supplier in India
A humeral intramedullary nail is a type of orthopedic implant used to treat fractures of the humerus bone, which is the long bone in the upper arm. Intramedullary nailing involves inserting a metal rod into the hollow center of the bone, which provides stability and support to the fracture as it heals.
The humeral intramedullary nail is typically made of titanium or stainless steel and is inserted into the humerus bone through a small incision at the top of the shoulder. The nail is then guided down the center of the bone to the fracture site, where it is anchored in place with screws or locking bolts.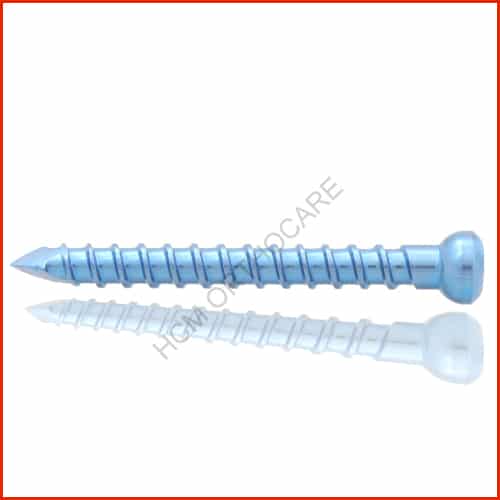 Humeral Intramedullary Nail
An Intramedullary Nail (Humeral Intramedullary Nail – HIN) is now being used instead of a plate to stabilize proximal humeral fractures. The improvements in implant design have the advantage of preserving fracture site vascularity, which speeds up healing.
The use of Humeral Intramedullary Nails (HIN) is ideal for segmental fractures, pathologic fractures, and osteopenic fractures. In addition to being a non-weight-bearing extremity, the arm's hardware failure rate is low, and its union rate is similar to that of compression plates and screws. Hardware failures are rare because the arm is not a weight-bearing joint, and union rates are comparable to those of compression plates and screws. Certainly, compression plates and external fixators can be helpful for treating fracture patterns and severe wounds where intramedullary nailing is not appropriate. The surgeon should be proficient in all three techniques and be able to select the best one quickly depending on the fracture pattern, skin wound, and associated injuries as well as the patient's overall condition.
In humeral fractures, antegrade nailing is associated with three main risks: Rotator cuff injury, soft tissue injury around the shoulder, and distal locking. In order to overcome cuff problems, advancements in surgical techniques with sophisticated nail designs have been proposed, however, these proposals have not yet been validated by further studies. 
The guide pin starts between the greater tuberosity and sulcus in the center of the humerus
Ensure 50% of the fluoro area is bare, and the mallet is in place
before driving the guidewire down the canal on power
Verify that AP and LA fluoro are in the center of the canal
With soft tissue protector, use lateral entry reamer or lateral entry awl (*8mm) and ream until the stop plate is reached Nails can be used to treat acute and pathological fractures. If the fracture occurs between the surgical neck and approximately 5 cm above the olecranon fossa, then humeral shaft nailing should be performed.
   – Humeral Intramammary nails versus plates for humeral shaft fracture                   fixation in a randomized prospective study
Disadvantages:
– This may result in a significantly smaller canal diameter at the distal end of the humeral shaft because of its funnel shape; The diameter of the proximal canal, which increases the risk of iatrogenic comminution, especially if the canal is not reamed;
– nonunion
– rotator cuff damage
– radial nerve palsy: