Orthopedic Implants Manufacturer
HCM brand Orthopedic Implants manufacturer and exporter are being used world over with the faith and self-confidence that a renamed brand enjoys! We are in the top companies of India to manufacture orthopedic implants. We are offering a wide & growing range of the highest quality orthopedic implants & instrumentation along with other associated products at a reasonable cost we have got a sound & firm position in the Orthopedic Implant industry by having a sturdy network of distributors domestically & around the globe.
Our corporation has the most modern technologies and it is one of the best manufacturers and exporter since 2006 with high point advantage of Ortho-Implants and instrumentations.
HCM Orthocare manufacturer of Orthopedic Implants & Instruments manufacturer and exporter has rapidly acquired good reputation as the premium manufacturer of pain devices made with international specification. Our all products in accordance to the prevailing industrial standards.
We are engaged in manufacturing, exporting and trading a wide range of Orthopedic Implants & Instruments. Our range comprises of bone screws, Nails, Bones Plates, Special locking  Plates, Spinal Implant Screws, Fixator and Spinal Implants & Orthopedic External Fixators, wires etc.. When the tolerant prefers to grow longer their arm or leg they can opt for limb lengthening surgery. Orthopedic Implants is a process that takes several months to complete. It depends on the capacity of regeneration of new bone, tissue, ligaments, blood vessels, and surrounded cells.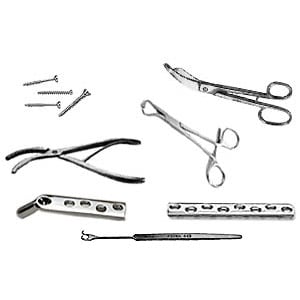 This surgery consists of several phases. The first one is known as an osteotomy. In this phase, the surgeon cuts the bone to be lengthened. Later the external fixation devices are used to stabilize the limb.
The second phase is known as the Distraction phase. As the name implies, the bone is pulled apart and hence new bone can be generated at the place of the osteotomy. Orthopedic Implants manufacturer process is done 4 times a day to attain 1mm growth of bone per day. It is sustained until the desired duration is achieved.