Orthopedic Surgical Instruments
At HCM Orthocare, we provide a series of Orthopedic Surgical Instruments for surgeons & pediatricians' given that surgery of some problems involving the musculoskeletal system. Our Orthopedic implant OEM Contractor used Orthopedic Surgical Instruments which are designed for non-surgical and surgical procedures regarding musculoskeletal trauma, neuro, sports injuries, infections etc.
These are made with qualitative material in conformation with diverse medical standards using the latest standard and most advanced technology. The HCM Orthocare provides an exceptional variety of orthopedic implants tools in different specifications. These orthopedic surgical instruments distribute optimum performance as well as are entirely hygienic.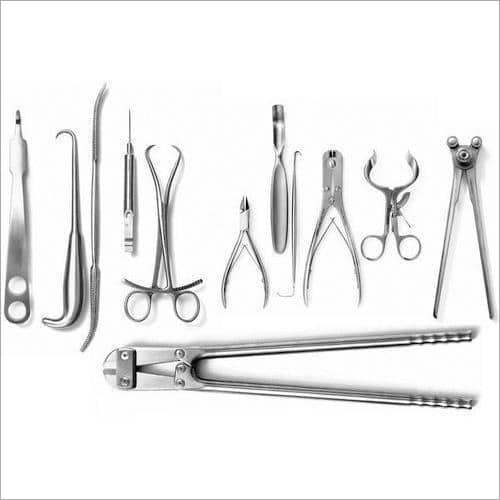 Specialty orthopedic surgical instruments are used to treat abnormalities are frequently designed to influence bone & associated tendons, ligaments, and other tissues. Our industry India's top reputed experts to manufacturer of Orthopedic Surgical Implants and Instruments which suitable for many type of surgeries and it is made under the professionals opinion which fix easily human bones curves.
The high-quality raw material using to produce these instruments. In addition, we also manufacturer of Spinal Hook, Spine Implant, Cervical Plate and cage with blade, Trauma Bone Screw|Bone Plate, Arthroscopy Implant, Exporter of External Fixators, Neuro Implant, Spinal Mesh Cage, Cervical Screw, and high-quality instruments supplier of TLIF cage, PLIF cage, Titanium Elastic Nail, Posterior Cervical Screw in Gujarat.
Orthopedic Surgical Instrument Verified Quality
Each Orthopedic Surgical Implant Instruments are High-quality surgical instrument must exceed detailed Quality Assurance (QA) tests prior to it can be sold. Instruments are tested for some steps:
Material
Workmanship
Pattern Consistency
Function
Critical Dimensions