Manufacturer of Pedicle Screw System :: Lumber Screw System Supplier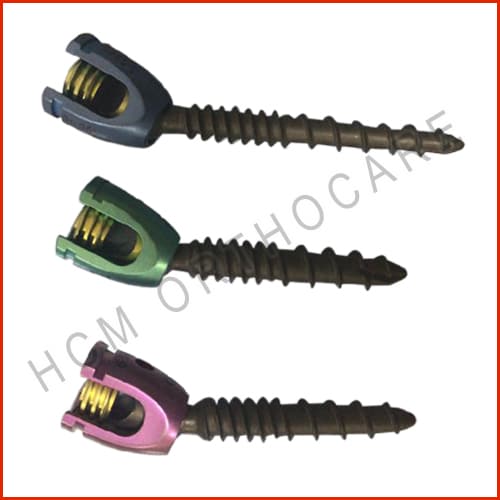 Bone Plates – HCM Orthopedic Implants & Instruments are globally reputed for their high quality, precision and durability such as Posterior Cervical Screw, Cervical Cage with Screws, Pedicle Screw System, Lumber Screw System, etc.
Pedicle screws are used in spinal fusion back surgery to join the screws, preventing mobility. The united vertebrae are secured with pedicle screws on both the top and bottom. At two or three consecutive spine segments, screws are inserted (e.g. lumbar screw system). Degenerative disc degeneration (DDD) can be treated without fusion using a lumbar pedicular dynamic stabilisation system (LPDSS). Pedicle screws are employed in the majority of posterior lumbar surgeries as the primary force in the repair of the multi-plane stability of the lumbar vertebra. Our study was the first to do a clinical evaluation of a new bone mounted robot system that directs percutaneous pedicle screw placement.
Our extensive range of Orthopedic Implants & Surgical Equipment includes Bone Screws, Intramedullary Nails, Bone Plates, Maxillofacial Implants, Knee Implants, External Fixators, Spinal Implant System, Locking Plate System, Power Tools, Instrument Sets, Surgical Drills, Screw System, Arthroscopy Instrumentation, etc.