Pedicle Screw System Manufacturer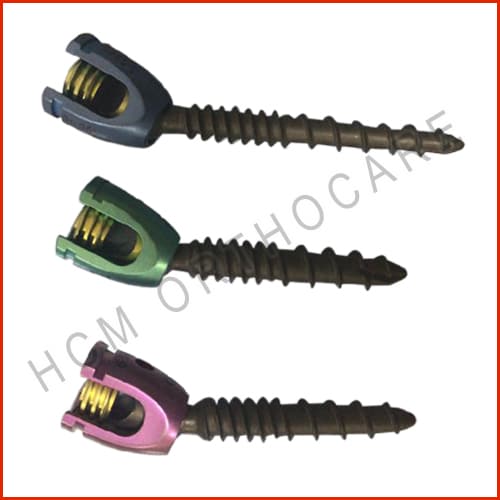 HCM Orthocare – We are the chief pedicle screw system manufacturer and the lumber screw system, pedicle screw system supplier of the whole range of the pedicle screw. India's foremost largest manufacturer, supplier, and exporter of pedicle screw system. We manufacture superior quality spinal screws including cervical screws, anterior cervical inter body spacer, cervical cage with screws, posterior cervical screw, pedicle screw system gujarat.
Pedicle screws are used occasionally in a spinal synthesis to include extra support & strength to the fusion while it heals. Posterior Cervical Screw, Lumber and Pedicle screws are placed below & above the vertebral column that were fused.
The pedicle screw system is frequently used for given that sustain to the spinal cord. This pedicle screw is they are positioned on the vertebrate where they are to be fixed and these screws are fixed among the help of the rods that are preventing the screw system movement. These screw fixed rods are given that the very steady packing in case of the bone grafting.
Our company manufacturing lumber screw system with high-quality stainless steel materials which diameter 5mm to 10mm and its length minimum 20mm to 60mm or as per the bones length & requirements. It is mostly used orthopedic surgical implants surgery in OEM contractor internal and external fixators.
Manufacturer of cervical screw, lumber screw, cervical cage with screw, posterior cervical screw, and pedicle screw systems which are rust proof and very strong that also at an affordable price at a single place. U-rod is use to not injure the skin and no any side effects when postoperative junctional kyphosis (PJK) occurs.