Trauma Implants Manufacturer, Exporter in India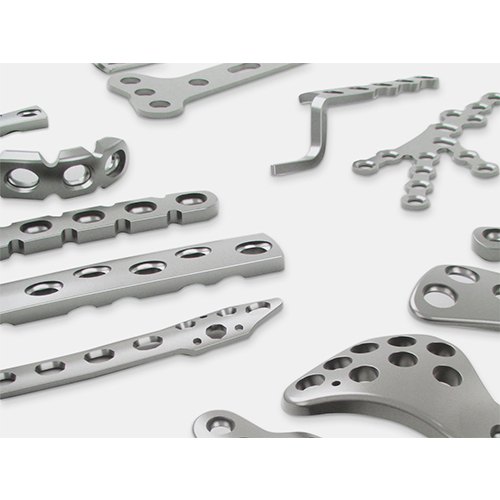 HCM Orthocare – Bone Plates, India is a leading Trauma Implants, Orthopedic Implants manufacturers & suppliers Company. We offer quality stainless steel & Titanium Orthopaedic Trauma Implants like Trauma Bone Plate, Trauma Bone Screw in a wide range. The story behind India's first 3D-print modelled, customized maxillofacial implant produced by Bone Plates (HCM Orthocare), Ahmedabad-India. HCM is the expertise manufacturer of high value medical and surgical orthopedic implants. 
Specific indications for trauma implants rely on factors including bone density. Depending on the required level of treatment and the required application, they are employed in various ways. The invention of joint replacements is a testament to current manufacturing ingenuity. Manufacturers of medical equipment for doctors and patients are increasingly aware of the importance of using high-quality materials in their products' construction. Reliability and long-term resilience are now essential. Titanium alloys and stainless steel, which are then further treated with plastic components, are used to make major implants. The implants are powered and reinforced by metallic structures, while the plastic material acts as a cage.
We are leading manufacturer and exporter of CE-certified implants, HCM-Bone Plates produces a diverse range of products ranging from ortho-surgical equipment to spine, joints, and trauma implants. The superior quality, accuracy, and durability of HCM Orthopedic Implants & Instruments are recognised across the world. We routinely ship huge amounts of our orthopaedic surgery equipment, including Ahmedabad, India. Our specialisation is meeting specific needs for orthopaedic surgery instruments and implants. Most of our Orthopaedic Implants including spinal system, cervical cages, intramedullary interlocking nail, locking/non-locking bone plates & screws are IN FDA approved. Bone Plates is the only Indian Company so far to have achieved this distinction in the field of Orthopedic Medical Devices.
For orthopaedic trauma implants, expertise is necessary
Orthopedic trauma implants are surgically implanted into the body. These operations are carried out by skilled surgeons with the highest levels of medical specialty. When a joint is damaged beyond a certain point, it is surgically separated and replaced with an orthopaedic implant.